Currently, as most of the conveniences and services have shifted online, the use of digital tools and services is on the rise. Considering the peculiar rise in online learning and gaming, screen recording tools and their requirements are reaching new heights. Thus, today, we've decided to enrich you with some of the best free screen video recorder alternatives to the Debut Video Capture which is a popular windows software for recording screen on the go with your microphone or soundcard audio and that too for free.
Join us in this quest of searching the best screen recorder alternative to the Debut Video Capture as we advance from listing out some of its advantages and disadvantages into the list of best free screen video recorder alternatives to Debut Video Capture.

As with the coins, everything has a downside and with Debut Video Capture, it is the trialware's duration. This free screen recording software will help you out only for a couple of days and will expire soon thus, you cannot rely on it for a longer time. However, it works decently as a temporary solution and you will not find any major difficulty in it unless you need to add a custom watermark in your screen recording video.
Another major missing on this software is a nice and lucid user interface that would be easy to use. Its current UI feels cluttered as all of the controls and buttons seem to be closely packed with one another. There's no doubt in the functionality of the software as it performs up to the mark as expected but elegant UIs are what customers seek nowadays which Debut lacks as of now. Debut video capture also lacks some basic video editing features as they're always a plus point to have.
Thus, we've come up with this cool list of 10 Best Free Screen Recorder Alternatives to Debut Video Capture just for you so that you can go through them and easily select the best one for your customized needs.

Screen Recorder by DVDFab is a wholesome free screen recording software for your Windows PC. Screen Recorder by DVDFab is capable of recording your iPhone screen seamlessly. This handy recorder comes with an inbuilt video editor which proves out to be a complete solution for all of your recording and editing needs.
This screen recorder is best suitable for recording your video tutorials along with the audio and picture-in-picture mode for playing two different video clips simultaneously. There are plenty of utility tools such as adding watermark, cropping or trimming the source video, transitions, animations, callouts, captions, zooming in/out, and whatever you desire!
Moreover, you can also use the webcam and microphone of your computer to put a secondary video in your screen recording, which is also called as the PIP (picture-in-picture) effect. Setting up this environment allows you to craft compelling tutorials or fierce gaming videos. All in all, it is a perfect screen recording tool that brings up an exhaustive list of features along with it to let you create some amazing videos that stand out from the rest.

Bandicam is a popular screen recording software that is proficient in the task of screen capturing with audio. This screen recorder also has a decent interface and controls to deal with. No matter if you want to record a normal browsing session, youtube video or a high-end game, Bandicam is a one for all software that can manage them all. For gaming purposes, you can capture your screen of up to 480 FPS 4K UHD video.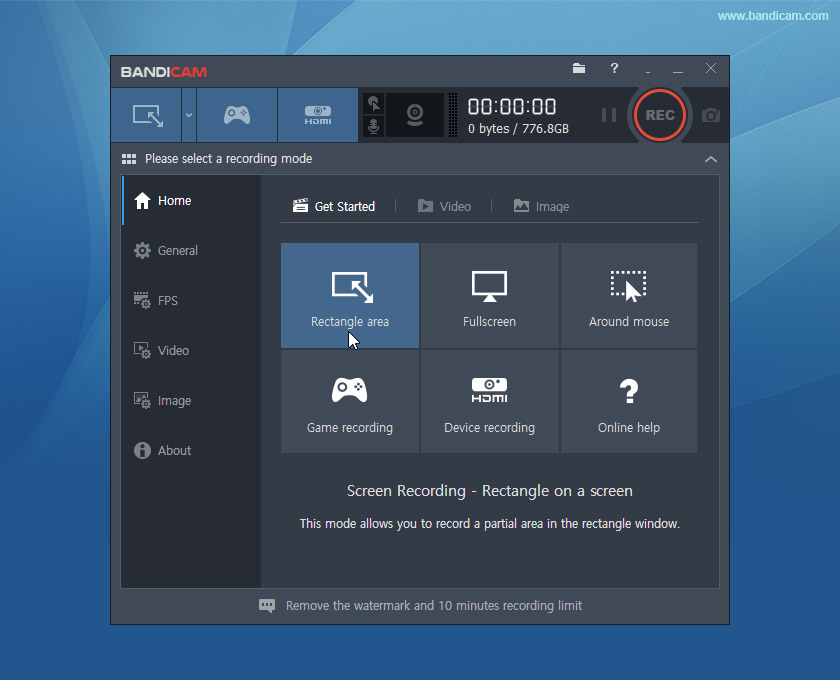 This flexible tool is also amazing for recording your Skype calls, webinars, online lectures to store and have a backup of them on your storage. With the video from your screen, you can add your voice right along with the internal sound of the program in the case when you're recording important lectures. Moreover, you can draw on the screen in realtime, highlight clicks, and many more effects which are reflected in the recording too!
Overall, it is a complete screen recording tool with sleek design and loads of features but its free version will only let you record a video of 10 minutes in length and will also leave a watermark in the video.
OBS Studio is an open-source free to use software for live-stream broadcasters and screen recorders to swiftly start recording their screens avoiding much of the technical configurations. OBS is the most popular screen capturing software used by gamers who live stream their gameplay on Twitch, YouTube or Mix. OBS has a sleek interface which makes it easy to operate right away.
Starting out basic, you can customize your video and audio mixing audio, add fading effects and switch controls and video sources to give a professional look to your video or live stream. OBS is a robust solution to record and capture your screen with all of the required functions thus, no matter how demanding your requirements are, it will never disappoint you.
ScreenRec is yet another software at your service to capture the screen of your computer. A major thumbs up in this software is its floating window to start and control the recording. With this window, control of this tool gets minimal so that you can focus on your work more instead of worrying about the recording.
This free screen recording software is best for instructors, developers, designers and all other prospective users who need to annotate comments and highlight particular things in the video. On the part of its value-added features, you get instant sharing, privacy control, video analytics, and video content management embedded in this system that makes it a perfect video capturing suite for business communications.
Our next free screen recorder for windows is for those who love delicately indulging software. You get a modern design with a nice look and feel so that recording does not seem a clumsy task to do. FlashBack Express screen recorder will let you capture screen and sound and an additional video via your webcam very easily.
You can accompany your webcam footage with your audio commentary recorded with your microphone to yield the best results. There is no specified time limit to record your video thus you are free to record as much as you wish and that too without those ugly watermarks. To save your video screen recordings, there are multiple file-formats available viz. MP4, AVI, and WMV.
Apowersoft is a free online screen recorder that you can use to capture your screens instantly without installing bulkier software. It gives you the option to flexibly record any portion of your screen or complete screen and add your webcam video simultaneously in the screen capture. As it is an online screen recorder, you are not left to worry about supported platforms anymore.
Apowesoft's video recorder lets you annotate while recording the video itself so that your post-production efforts can be minimized. This free online screen recorder handles the output file format elegantly by allowing you multiple file-formats that best suit your specific requirement. It has one of the easiest interfaces and is one of the best free online screen recorders.
Movavi's Screen Recorder is yet another great alternative to Debut Screen Capture to record your webinars, online lectures and live streams/online events on the go. This free screen recorder for pc allows you to adjust the recording area, select audio and video sources and even edit the recorded video captures. It also has a sleek floating window to monitor the recording of your screen which also makes it easy to use.
A plus point of this screen recorder is its amazing video editing capabilities. You can trim, cut, and join clips and even add animated titles and several special effects to touch up your videos. However, there are certain limitations of the free version which leaves an ugly watermark on all screen recordings you do with it. Moreover, the special editing effects are also not available in the free version.
The next free screen video recorder we have on our list is the Screen recorder by Icecream which is available for all of your devices, except for the iOS ones. Icecream Screen Recorder is a versatile screen recorder accomodating all of your needs of recording apps, 3D games, video tutorials, webinars, live streams, Skype calls and much more along with audio and webcam.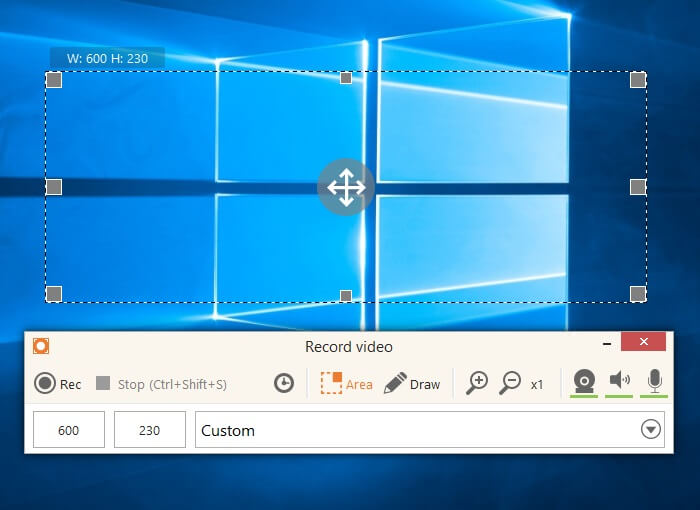 Some really amazing features that make this software stand out from the rest are video editing, customized recording configurations, change the speed of recordings, display hotkeys in screen recordings, mouse effects and the list is really exhausting. Overall, this free screen recording software is an all-in-one solution to record and edit your videos with creativity utilizing its versatile range of overlays.
Screen Grabber Pro by AceThinker is a powerful screen capturing tool to record your screen activity or take precise screenshots in an elegant manner. This free screen recorder for windows and mac will fit perfectly across all of your personal as well as business requirements. The recorder software provides an intuitive interface to manage all of your recordings in an efficient manner.
An amazing yet less seen feature that this software is an auto video capturing scheduling that comes out handy when you have to plan ahead and start the screen capturing automatically even when you are away from it. You can schedule this auto recording on a daily or weekly frequency so that no matter where you are, the recording will automatically start on its own.
There are tons of features to try out such as real-time annotations, webcam overlay, screen video editing, set hotkeys, share videos directly to YouTube and upload videos via HTTP. All in all, you can record screen activity with real-time annotations really easy with this handy free screen video recorder.
Screen Recorder by TinyTake is a helpful tool that lets you capture screen via videos or screenshots. TinyTake captures every activity that happens on your screen from mouse clicks to system audio. TinyTake is a suitable tool for creating annotating videos for product reviews, demos, fault or bug reporting. A nice plus point of this screen recorder is that you can drag and drop any picture from your local drive while recording your screen.
This free screen recorder for windows is perfect for your small but focused videos of 120 minutes maximum by adding annotations to share your personal insights about the content. One more value-added feature of this product is its bulk cloud file sharing capability which can be used as backup storage of your work.
ActivePresenter is an all-in-one screen recording suite that is specially fabricated for tutors to meet their eLearning Authoring requirements. The reason behind including this in our list was increased demand for eLearning which has resulted in a boom in this sector. This free screen recorder for pc includes all the tools needed to capture your screen, annotate, edit screencast videos and create responsive eLearning content.
Features, where ActivePresenter stands out from the rest, are its device responsiveness, text animations, multiple timelines, embedded HTML resources, interactive quizzes, dark mode, green screen effect, and various export options. This software is free for personal and non-commercial usage but you can always purchase one of its premium editions if you are in a hunt for a professional-grade eLearning Authoring software.
Keeping up with technology is challenging these days and especially cutting-edge screen capturing tools and their features are sometimes beyond our imagination. Thus, today we outlined the best screen recording software for iOS first as a bonus and discussed some of the alternatives to the Debut Video Capture software.
And, as you have it, these were the top ten free screen recorder alternatives to Debut Video Capture software according to us. There are plenty of options available for you as most of them are multi-purpose screen recorders, unless and until you don't need one for specific usage. We covered some of the best free screen recorders that are available out there which are best for recording games, eLearning modules, video conferences, video calls, and almost anything you might've imagined.
To sum up the discussion and specify the best use of a particular screen recorder, we've designed the following list for you to reduce the work.
| | | | |
| --- | --- | --- | --- |
| No. | Software | Best Suitable For Recording | Platform |
| 1 | Bandicam Screen Recorder | Gaming, Internet browsing | Windows |
| 2 | OBS Studio | High-end gaming and streaming | Windows, Mac, Linux |
| 3 | ScreenRec | Instructions, Programming (Code) | Windows, Mac, Linux |
| 4 | Flashback Express | Tutorials, Instructions | Windows |
| 5 | Apowersoft | Instructions with annotations | Online |
| 6 | Movavi Screen Recorder | Online events, live streams | Windows, Mac |
| 7 | Icecream Screen Recorder | Apps, video tutorials, webinars, video calls | Windows, Mac, Android |
| 8 | AceThinker Screen Grabber Pro | Business requirements | Windows, Mac |
| 9 | TinyTake | Video content | Windows |
| 10 | ActivePresenter 8 | eLearning Authoring | Windows, Mac |
Lastly, we recommend another realted topic:
Top 10 free audio trimmers to trim audio easily for the video you recorded with the above alternatives to debut video capture.